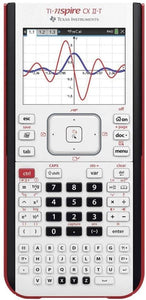 TI NSPIRE CX II-T
Dhs. 675.00

Dhs. 675.00
Tax included.
Shipping
calculated at checkout.
---
---
Built-in Functionality Computer Algebra System (CAS) capabilities (TI-Nspire CX II-T CAS only.) CAS can be disabled Function, parametric, polar, sequence, and 3D graphing Multiple graphing functions can be defined, saved, graphed, and analyzed at one time User-defined list names in Lists & Spreadsheet Eleven interactive zoom features Numeric evaluations in table format for all graphing modes Interactive analysis of function values, roots, maximums, minimums, integrals and derivatives Six different graph styles and 15 colors to select from for differentiating the look of each graph drawn Matrix operations: transpose and augment matrices; use elementary row operations; find inverse, determinant and reduced row echelon forms; convert matrices to lists and vice versa; calculate eigenvalues and eigenvectors

DataQuest Plug and play data collection and scientific analysis.

Program Editor Add new functionality and create rich STEM activities.
---